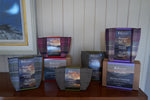 Are you looking for a present? Maybe a souvenir of the highlands or something to impress a friend with?
Our Gift Sets and
Bathing Boxes are perfect for that!
There are our wonderful sets with a Handmade Soap and an organic Hand & Body cream in a beautiful hand stitched and long lasting tweed wash-bag.
Or our popular Hand Washes & Hand and Body Lotions which come in lovely tweed wash-bags. Truly perfect for any event, they combine the perfect pair of Hand Wash and Lotion to treat your skin with a lined and reusable make-up or toiletries bag.
Have you tried shaving in the old-fashioned way with a soap and brush? Or would you just like to gift an astounding shaving experience? Our Juniper & Lime Wash Bag & Shaving Kit is perfect for that. It entails shaving essentials like a s
having soap and a cruelty-free pure bristle shaving brush in a nice tweed wash-bag.
With our wonderful Bathing Boxes you can surprise your friends with a amazingly bubbly Bubble Bath, a Handmade Soap and a Bath Bomb - a lovely gift for any occasion.