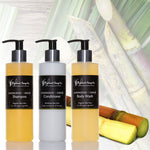 At The Highland Soap Company we have always prided ourselves on being the greenest maker of soaps and skincare products in Scotland. We have always used organic and natural ingredients, been ahead of the curve on reducing unnecessary plastic and supported local, Scottish and UK suppliers as far as possible.
But this year we have gone a step further. We have received our first consignment of 250ml bottles made of biopolymer, a plastic made of sugarcane - a renewable source that needs little more than natural rainfall to grow. We will use these bottles for our shampoo, body wash and conditioners (though we have a stock of our old ones to get through) and extend them to our other products as soon as we can. 
The bottles look and feel exactly the same and are recycled in the normal way but instead of being made of crude oil they are made of plants. It feels like such a step forwards and we are really excited.
The environmental saving here is in carbon emissions.
The sugarcane biopolymer is potentially carbon negative, with 3.09 kilograms of CO2 being removed from the air for every 1 kilogram of biopolymer produced. 
When previously carbon was emitted from fossil fuels to make plastic, now carbon is sequestered from the atmosphere by the sugarcane and stored in these bottles.
As global warming leads to extreme weather, crop failures and sea-levels rising it is these incremental steps to reduce our impact that will make the difference.