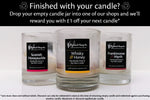 Do you have some old glasses hidden away? Just pop your clean jar into one of our shops for £1 off a candle purchased in the same visit. Please don't post them to us and wash them thoroughly before bringing them in. Handy tips below!

We have a clever up-cycle planned for the glasses you bring in - keep reading to see what we're up to!
Reduce-Reuse-Recycle! 
We are really excited to re-use these candle jars as water tumblers in our new Larder Cafe so the more you can send us the better! 
You may have heard that The Highland Soap Company is moving to our new home in Fort William next month. Our new soapworks, shop and cafe will have tours and soap-making classes and sits between the 13th century Old Inverlochy Castle and the River Lochy with views over Ben Nevis.
We can't wait to show you round!