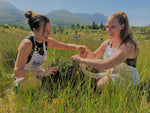 You've waited so patiently while we've been out of stock but your firm favourite is back, and better than ever! 

It's been 18 months since we last able to buy the essential oil to make our iconic bog myrtle product. We received many lovely messages asking us to bring it back. We love it too and tried and tried to buy some but just couldn't, for love or money (we tried both). We believe we are now the only company using real bog myrtle (myrica gale) essential oils to make soap and skincare products in the UK, with other companies using fragrance oils with similar scents - but crucially not using the distillate of the plant itself.

So, this summer we purchased a copper pot still, sustainably wild-harvested some bog myrtle from hill and glen, and distilled the oil from the leaves and voila! We created our own bog myrtle oil for the first time.
Our Bog Myrtle hand wash has a lovely fresh herbal, lemony scent to cleanse and nourish skin. Anti-bacterial and moisturising hand wash with Aloe Vera, naturally fragranced with plant extracts and essential oils.
Shop Scottish Bog Myrtle £12.95
Bog Myrtle hand & body lotion is wonderfully creamy yet light and nourishing to help soothe and comfort dry skin. Blends deeply moisturising Shea butter and Aloe Vera and extracts of Lavender.
Shop Scottish Bog Myrtle Lotion £15.50
Scottish herbalists have long valued the wonderful antibacterial properties of Bog Myrtle leaves. Deeply moisturising and naturally anti-bacterial soap, made with skin-loving glycerine from certified Organic vegetable oils. These soaps produce a creamy lather to gently cleanse and nourish to help keep skin smooth, soft and supple
Our handmade soap has a lovely fresh herbal lemony scent to gently cleanse, nourish and help brighten dull, tired skin. Handmade in small batches by century's old traditional processes using the finest Olive Oil, Coconut, Corn, sustainable Organic Palm and Castor Oils with our locally pure Scottish Highland water. 
Shop Scottish Bog Myrtle Traditionally Hand Made Soap £8.50
Why we love Bog Myrtle
Comfortably our most popular range, Highlanders have long valued the blue-green leaves of bog myrtle. It has been used to flavour ale, and the beautifully fragrant leaves used to keep away midges. A sprig of bog myrtle would be tucked behind the ear or in a hat to keep the midges at bay. The plant thrives in Scottish Highland peat bogs, alongside rivers and on the edge of our lochs. Bog myrtle has a fresh herbal, lemony scent.

Bog myrtle has astringent and antiseptic properties and was traditionally used in wound healing poultices by herbalists for everything from psoriasis, eczema, dry and itchy skin to spots and blemishes. We have received lovely messages from people asking when we will be able to offer it again because of the differences it has made to their skin.

We are so glad to be able to make it again!
Our best selling cream by far. A rich and creamy intensive face moisturiser to deeply nourish and help to replenish dry skin. This organic cream blends deeply moisturising Cocoa Butter and Shea Butter, with Lemon Balm, Chamomile, Lavender, Nettle and Aloe Vera natural plant extracts.
Bog Myrtle leaf oil with its skin anti-aging properties, is reputed to be extremely useful for sensitive skin and acne. A soothing, deeply nourishing daily moisturiser to leave skin feeling soft and smooth.

Shop Scottish Bog Myrtle Cream £18.95