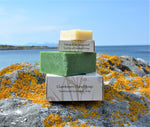 At the Highland Soap Company we believe in preserving our environment and creating beautiful soaps that are sustainable - as well as organic. Our products are vegetarian friendly, and all of our products and raw ingredients are cruelty-free and not tested on animals. We wild-harvest and buy locally where we can but when we import ingredients we want to be absolutely certain we are doing so ethically. Our motto is, to coin a phrase, 'trust - but verify'. That way we can produce soap that our customers can feel good about using. 
We have two examples for you today; palm oil, a wonderful ingredient for soap making with a dirty reputation - and sodium lauryl sulfates (SLS), an artificial foaming agent that leaves you in a lather. Should we use them... or not?
Keep reading to learn how we think about ethical sourcing and artificial ingredients...
Sustainable Organic Palm Oil
Like many of the people who enjoy our products, we are appalled by the devastation wreaked by palm oil producers in South East Asia. Unethically produced palm oil has led to the loss of millions of acres of rainforest and driven the orangutans to near-extinction. Consumers need to demand better.
Yet, when palm is grown responsibly it is a wonderful natural plant oil. It makes a superior moisturising soap with a natural, thick and creamy lather, and a bar that is hard and long-lasting. So how do we find ethically produced palm oil that we can use with pride?
We spent a lot of time thinking about this and decided to only use organic palm oil grown on a re-claimed Colombian cattle ranch. This way, there is absolutely no infringement on the South East Asian orangutans' habitat. Their oil is certified as being organic by the Soil Association and they have earned their membership of the Roundtable on Sustainable Palm Oil. The RSPO implement a robust internationally recognised certification process for sustainable palm oil and are the absolute pinnacle on sustainable farming. 
Consumers: demand better! If you always demand cheaper, manufacturers will cut corners to save money!
Sodium Lauryl Sulfate (and friends)
We take such care to eat healthily. We started with free-range eggs, stopped buying 5p bags, moved onto organic ingredients and are now thinking about reducing meat and using milk substitutes like soya and oat milk. Good for us - good for the environment. Win-win!

But what about skincare? It is time for the garlic test. Just rub some fresh garlic on the soles of your feet and wait a while. You should be able to taste it in your mouth and smell it in your breath in 15 minutes or less. Which all begs the questions: when you take such care to eat healthily do you also consider what you rub onto your body?

Most hand soaps, shampoos and body washes have all sorts of foaming agents, parabens and other un-natural chemicals. You rub these on your skin, like you did with the garlic.

One of the worst is Sodium Lauryl Sulfate. SLS is made by reacting lauric acid with sulphuric acid (from petroleum) and sodium carbonate (mined). There's actually no proven link between SLS and cancer though opinions vary but it does dry out your scalp – not ideal if you have dry skin or suffer from eczema or psoriasis and it is a little too harsh for those with very long, dry hair. It also has a wider environmental impact, including a potentially toxic effect on aquatic organisms. 

So remember the garlic test and think about skincare the same way you think about food. Don't rub anything on your body that you wouldn't want in your system. Use natural soaps and shampoos made from moisturising ingredients like oils and butters to leave hair soft, shiny and manageable. Skin troubles? Try a natural product first. And remember the fish and the orangutans next time you buy a bar of soap!

Don't get yourself into a lather about which chemicals to avoid. Do your skin a favour and wash organic...