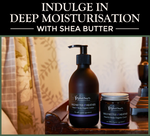 Shea butter, derived from the Shea tree fruit, is more than just a moisturiser. It's a skincare superhero, perfect for dry skin, that shields against the sun, a polluted environment and signs of ageing.
The high quality butter nourishes and moisturises the skin and also accelerates healing. Due to several fatty acids in shea butter, it actually improves the skin's natural acid barrier and thus helps keeping the skin nicely moisturised better than many other fats.
Our products use fair trade sourced shea butter and combine it with other natural fragrances, like lavender or bog myrtle, leaving your skin soft and smooth and smelling fantastic.